Why NIS
NETWORK INSTALLATION SERVICES provides high quality Information Technology System design, installation, and integration services for today's demanding data, voice, A/V, wireless, fiber optic, security, and safety applications.  Working with Connecticut-based commercial accounts, healthcare organizations, universities and schools, industrial clients, ITS consultants, architects, and general contractors, NIS has developed an outstanding reputation for providing standards-compliant designs installed with top quality craftsmanship and premium manufacturer products.
NIS cable systems are based on the Commercial Building Telecommunications Cabling Standard (ANSI/TIA/EIA-568-A) first approved by the American National Standards Institute in 1991. The generic cabling standard provides support for multi product, multi vendor computing environments in commercial buildings and campuses. This approach allows for a smooth transition to new, faster network technologies, as they become available, without abandoning the investment in the communications infrastructure.
Combining the expertise of our BICSI certified Registered Communications Distribution Designers/RCDD, and Telecommunications Layout Technicians/TLT, in conjunction with proven project management strategies, we design top quality, cost-effective structured cable systems that support a company's mission-critical applications of today, while affording them the bandwidth to migrate to tomorrow's emerging technologies.
Trained Workforce
Quality installations are a direct result of motivated, well trained technicians working together for the highest quality finished product.  One of the ways we maintain our standards of excellence is through an extensive installation technician training program. Manufacturer Certification Training, which teaches recommended installation practices and testing procedures, combined with BICSI's comprehensive installation course material, OSHA Certified Safety Training, and NIS' in-house CT State approved apprenticeship training program, assures that NIS has qualified technicians and project managers to handle just about any cabling environment.
Manufacturer Certified
NIS understands the difference between designing a data center, building out multiple systems in a healthcare facility, and the stringent requirements of a clean space.  Every project is unique with its own nuances and needs specific to its applications.  By partnering with the industry's leading manufacturers in IT system design and connectivity, NIS is able to offer a broad array of premium cable and connecting hardware components to provide working systems that will meet tomorrow's networking and bandwidth requirements.  NIS' certifications provide extended manufacturer warranties, covering parts and labor up to 25 years on new IT system installations.  NIS is a manufacture trained and certified installer for:
BERK-TEK, CORNING, HUBBELL, LEVITON, MOHAWK, ORTRONICS, PANDUIT, SIEMON, AND SUPERIOR ESSEX.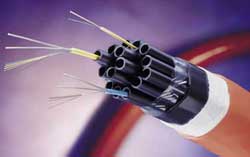 NIS uses the most advanced tools and test equipment to verify that each installation meets the ANSI/TIA/EIA and IEEE/BICSI industry standards.  Our specialized tools and testing equipment include Fluke Networks DTX and DSP testers for copper and fiber category compliance testing.  We also use Fluke OTDRs, Corning Fiber Splice Equipment, and various other outside plant equipment.
Project Management
Project management, the key to a successful installation, is a top priority at NIS. A Project Manager and Team Leader are assigned to each new installation. The Project Manager coordinates the manpower, materials, and workflow of the job. The PM monitors and reports on the progress of the project, coordinates with the other trades on the job and acts as the prime customer contact. From project start, NIS' Team Leader is dedicated to the project, directing the activity of NIS' licensed installation technicians and registered apprentices. Upon project completion, the Team Leader completes a thorough Installation Checklist, part of NIS' commitment to deliver the highest quality cable systems available.
Whether you are upgrading your current network infrastructure, providing wireless LAN access, installing a security system, or expanding your data center, NIS has the right solution and the experienced personnel to help you achieve your goals, and provide you with a return on your investment.  Licensed, registered, insured, bonded — delivering projects on time and on budget.
Safety & Health
We have zero tolerance for accidents.  Job-site safety is our highest priority. The importance or urgency of any installation project will never take priority over preserving the safety and health of each individual NIS team member and everyone associated with the project. Our firm's success depends on the safety with which each job is performed.